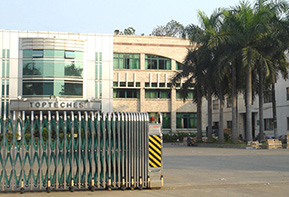 TOPTECHES company is a synthetic intelligentized & high-tech company that involves research & development, production, sales and after-sales services, established in 1995. Our main products are security products, bomb detector, explosive & narcotics detector, bomb jammer, truncation communication signal device, cell phone jammer, baggage scanner, x-ray inspection system, military thermal imaging camera, binoculars, liquid explosive detector, metal detector, guard patrol system, needle detector, time stamp printer, under vehicle search mirror & video check system, medical oxygen concentrator, clinical thermometer door, walk-through body temperature detector, scan flu & COVID-19 & Delta Virus human fever body temperature detector, medical infrared ear & forehead thermometer. Our products are widely used in various fields and industries, including large department stores, residential areas, schools, hospitals, police system, oil industry, telecom industry, factories, railways, postal systems, coal mines, public places and so on, conform to ISO9001:2008 international quality standard management system and ISO13485:2003 international medical device quality management system standard and CE, FCC and EMC requirements.
Now many oversea trading companies are selling our products used widely in various fields, they have gotten many reputations from their customers of using our products. We help customers to design and manufacture their some international brand products in the past and now. TOPTECHES company will continue to develop and research inspection attendance products, metal detector, bomb detector, truncation communication signal device/jammer, explosive & drug detector, narcotics/explosives detector, bomb jammer, hand-held / walk-through medical digital thermometer, medical flu body temperature detector, H7N9 flu & H1N1 flu & HFMD & Ebola Virus & COVID-19 virus human fever body temperature detector, medical Oxygen Concentrator, medical infrared ear and forehead thermometer in the future.
TOPTECHES group has won the trust and praise by general clients by its high quality products, professional spirit and considerate service, thus gradually becomes a renowned company in international safety and security industries, and the company has already established subsidiary companies, forms a national sales network and complete after-sales service system all over China, and have many overseas dealers which are marketing our products. Four business groups of TOPTECHES company: Security Inspection Product Department. Wireless Communication Product Department. Medical Product Department. Time Printer Department.
TOPTECHES insists on the business idea of " Demand of clients are No. 1, keeping technologic innovation ", faithfully offering best services, such as systematic design, marketing and sales, technology support and after-sales service, and brings solid guarantee and economic benefits for clients.
TOPTECHES Industrial (H.K.) Limited and TOPTECHES Electronic (D.G.) Limited are branches of TOPTECHES company.