ONETECH ON797 tunnel type needle detector, conveyor type needle detector

Application:
ON797 detector is used to inspect toys, shoes, hats, non-woven products, elastic cotton clothing, inspect sewing products, plastic plate, pharmaceutical products, chemical products, rubber products, food products, and other items of detection, it can be installed directly in product line.
Feature:
ON797 adopts the international advanced technology & micro-chip digital signal processing technology, has intelligentized location show and counting system. ON797 has strong anti-interference capability, to suit more complex environment use. Equipped with an automatic shutdown device, have safety and energy saving design functions.
1. LCD control panel gives you good operation environment. Real time level show. Automatic counter function. 2. The conveyor belt is made from nonpoisonous material. 3. When sensors detect a broken needle or a iron piece,Alarm mode can be given out. Automatic checking function. Designed for universal AC power supply (full range). 4. When the broken needle or other magnetic metal is found, the machine gives out an alarm, at the same time, the conveyor belt stops and return automatically. 5. If the alarm is given out normally, the probe will give out a light to display a object place where the broken needle or other magnetic metal is.
Technical data:
Detection method: magnetic induction. Detection adjustment: automatical adjustment. Weight: Appr. 180kg. Alarm method: Buzzer, Lamp. Power supply: AC100 ~ 240V, 50 ~ 60Hz. Rated output: Appr. 140W. Total dimension: 1820 mm (L) x 1050 mm (W) x 900 mm (H). Tunnel detection Sensibility: Feφ ≥ 1.0 mm.
Tunnel inspection width: 600 mm. Tunnel inspection height: 120 mm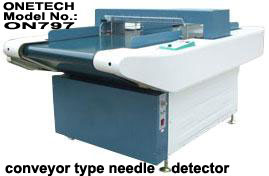 Technical standards:
1. Conform to EN 60950-1: 2006+A11: 2009 international electrical product safety standard. 2. Radiation conforms to EN61000-6-3:2007 international product emission standard. 3. European CE and EMC international safety standard certificates.