Details of more walk-through metal detectors, please visit http://www.topteches.com/en/Product.asp
SIIE AMH1000 18-zone walk-through metal detector with a camera with capturing picture & video function
Application:
AMH1000 detector is an 18 detection zone high security walk-through metal detector with a camera with capturing picture & video function, when people pass through it, it can detect any small mass metal from head to toes, manually we can adjust its sensitivity for high sensitivity or low sensitivity to detect a small metal or a big metal. It is used widely in loss prevention & security inspection, such as: used in airports, courts, prisons, customhouse, gym places, plating factory, exhibition sites, electronic factory, hardware factory, amusement place, casino, seaports, military bases, embassies, and so on. It can inspect persons, hand-held luggages & parcels, and can locate a small metal, IED-device, weapons, parts of weapons, bombs, etc., can also detect drugs packed with Tin Foil paper.
Connect a camera and a computer system:
SIIE Model No. AMH1000 is a long-distance surveillance body and metal detector with a camera, it has high-precision detection, and it has eighteen detection zones in metal detection, it is complete security detection & multi-zone alarm display, its output signal will connect to a computer, the system can achieve remote video surveillance and photos, and be on-site, may not need staff on duty.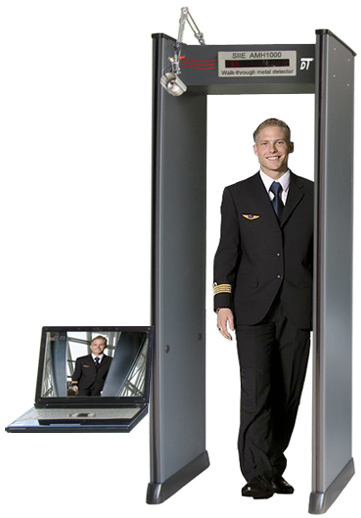 System alarm way as follows:
When the illegal metal on body is detected, its alarm voice and LED light show position will be given out, its camera can photograph immediately automatically, the human picture can be watched, captured and saved in the hard disc of this computer. Image storing: real time to store any image & process it in operational status. Image storage: minimum 30000 images, installation standard hard disk: 500 GB. Optional: a computer and hard disc capacity. Optional: Backup power supply: uninterruptible power supply ( UPS ) for two ~ three hours work.
Alarms are Sound & light. Archiving features: AMH1000 detector can provide the interface to connect the computer for Real-Time video records as the prosecution unit evidence, it can record the Alarmed visitors' images with time stamp into its camera' SD card or it can record the Alarmed visitors' images or all visitors' video with time stamp to a computer control system in order to receive audio visual alarm changes. Optional: computer control system.
Optional: a computer, a computer can also be bought by you in your country, you can install our AMH1000 detector's software to connect and finish this computer system for work.
If you don't connect a computer for use, it can also work independently because its camera has a 32G memory card (SD card), when it gives out an alarm, this camera can record the captured image automatically. Its memory card can be taken out to install it in a computer by a card reader to watch images.
Feature:
1. Complete security detection, multi-zone warning display position, very high discrimination and detection speed, high immunity to external interferences. High reliability with double LED position alert. Alarm zones from head to toe are displayed in two sides of this door. Overall gate sensitivity adjustment for 100 grades, and each zone can also be individual adjustment sensitivity for 100 grades. Highly visible double display: Provide multiple location of weapons in transit.
2. Automatic calculation passer number and alarm number functions shown on its top front operational panel, LED show digits,it has induction to all metals, has an intelligentized recognition processing function. Automatic checking and recovery function. It has 18 detecting areas, when carrying any small mass metal passes through it, it can detect this metal, its alarm will be given out, you can get an accurate warning location. Objective location alarm lights are displayed in two sides of this door. Outer adjustment sensitivity by hand.
3. Operating parameters can be set freely by a remote control (Optional), you can protect its parameters by the password and a lock to prevent unauthorized people from changing its parameters, allows only responsible managing persons to operate it, it can automatically be calibrated and doesn't have periodic calibration, no maintenance.
Technical data:
Sensitivity adjustment: 100 grades. Power supply: 100V ~ 220V AC (±10%), 50 / 60Hz. Power consumption: 20 ~ 25 W (normal), maximum 35 W (alarm). Net weight: about 65 kgs. Work environment: -20℃ ~ 60℃.
Overall exterior gate dimension: 2220 mm (H) x 830 mm (W) x 600 or 700 mm (depth), optional: 2270 mm (H) x 880 mm (W) x 600 or 700 mm (depth).
Gate passageway interior dimension: 2000 mm (H) x 700 mm (W) x 600 or 700 mm (depth), optional: 2050 mm (H) x 750 mm (W) x 600 or 700 mm (depth).
Detection speed: 60 persons for each minute. Sensitivity adjustment program: adjustable from 100 grades. Fault Indication is automatic fault diagnostic. Its calibration is an internal automatic adjustment, have outer manual adjustments. Safety: High safety, good applicability, high sensitivity, and no harm to cardiac pace-maker carrier, pregnant women, floppy disc, film, video tape, etc.. Storage: more images & data can be stored for evidence. Frequency: Sixteen (16) independent frequencies designed to meet all installation.
Indicator lights: International symbols are located on alarm places, all alarm positions or zones will be displayed by the independent LED lights on one side or two sides of the door located on exit sides. Its interference is immune from external radio interference noise, it can have the provision for compensation of adjacent static metal for stability.
Technical standards:
1. Conform to EN 60950-1:2006+A11:2009+A1:2010+A12:2011+A2:2013 product safety international standard. Conform to EN 55011:2009+A1:2010 and EN 61326-1:2013 product safety international standards. Conform to EN61000-3-2:2014 and EN61000-3-3:2013 product safety international standards. 2. Conform to EN 61000-6-1:2007 product immunity international standard and radiation conforms to EN 61000-6-3:2007 +A1:2011+AC:2012 product emission international standard. Be harmless to pregnant women and magnetic recording materials. 3. Conform to existing walk-through metal detector GB15210-2003 standard. Conform to U.S.A. FAA 3-gun testing standards and NILECJ-0601-00 safety standards. 4. European CE and EMC international security standard certificates, conform to ECAC international Security standard. Conform to U.S.A. Transportation Security Administration (TSA) standards.
Where to use:
-Airports, seaports and public transportations
-Banks and financial institutions
-Schools and sports stadiums
-Churches and lecture halls
-Hospital ER and MRI room
-Hotels, conference centers and casinos
-Courthouses, police facilities and government
-Prisons and jails
-Embassies and broadcast studios
-Power plant and research center
-Military bases