• Multi-zone alarm walk-through metal detector, walk-through scan body temperature and metal detector with a camera and a computer
• Tunnel conveyor type x-ray inspection parcel, baggage & pallet cargo system, truck/container x-ray screening system, portable medical x-ray and baggage scanner
• Hand-held and tunnel conveyor type needle detector, metal detector
• Underground metal and gold detector, hand-held metal detector, conveyor type industrial and food metal detector, inspection shoe metal detector
• Patrol clock and guard patrol system, binocular military telescope,thermal imaging camera, military hunting aim telescope
• Bomb detector, bomb jammer, explosive & drug detector, GPS and phone signal jammer, narcotics detector, communication jammer, liquid explosive detector, vehicle bomb inspection system, search mirror
• Conveyor tunnel type mining metal detector head, food & industrial metal detector head
AWH 238B flu medical digital ear thermometer, Ebola virus & MERS & flu clinical thermometer, 流感耳式体温计
TECOS AWH238B hand-held medical digital ear thermometer ( ear type hand-held digital medical thermometer, digital clinical thermometer ) can detect Lassa virus human fever body temperature, human body temperature, hand-foot-mouth disease ( HFMD ) body temperature, H3N2 flu & H1N1 swine flu body temperature, H7N9 bird flu body temperature, Zika virus & MERS & Ebola virus disease (EVD) human fever body temperatures, malaria virus & dengue fever human fever body temperatures and human body fever temperatures of other various flus & viruses. AWH238B thermometer can detect and find a fever patient who is caused by any virus or flu.
Application:
TECOS AWH238B hand-held medical digital ear thermometer is used to measure the temperature control center temperature of human brain hypothalamic temperature in ear, and it reflects the body's core temperature more accurately.It has a high sensitive body temperature measurement and a wide detection range, does not interfere with the measured target, and its use is safe. It is particularly suitable for hospitals, school, kindergarten, families, companies, factories, entertainment places, prisons and so on.
Function:
1. Have an automatic temperature correction function in order to avoid a large temperature difference in the environment for the correct measurement. Alarm Temperature: 37.5℃. Fever alarm. LCD screen shows a body temperature.
2. Replaceable probe ear covers to prevent cross-infection. It's a medical digital ear thermometer.
3. Have a Centigrade & Fahrenheit temperature conversion function. In high temperature, have a voice prompt alarm function. It will give an alarm when that body temperature is more than 37.5 ℃. LCD displays a human body temperature.
4. Have an automatic shutdown and extending battery life function.
5. Memory: 10 sets of data records, more conveniently, the user will friendly monitor different body temperature conditions. Power supply is a 3V lithium battery. The product is a medical instrument. Temperature resolution: 0.1℃. Measurement time: 2s ± 1s. Alarm Temperature: 37.5℃. Measurement accuracy: ± 0.2 ℃.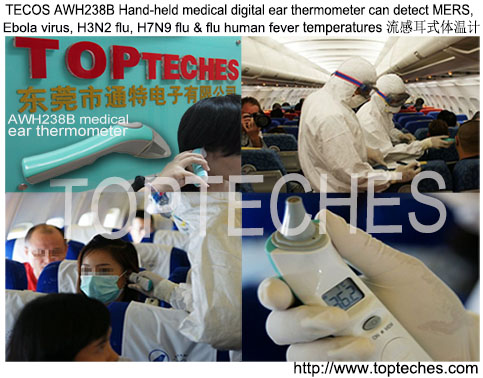 Conform to European Medical Device Directive (MDD) 93/42/EEC and EMC Directive 2004/108/EC international safety standards.
Have European CE & EMC international medical device standard certificates.