SWT189A portable type walk-through medical automatic scan COVID-19 virus, Monkeypox virus, Delta virus, Omicron virus, flu & various virus human fever temperature detector ( AI medical Non-contact recognition face body fever thermometer ) as follow:
SWT189A portable type walk-through body fever temperature detector (medical body thermometer)
Application:
SOTUE SWT189A body temperature detector (AI medical recognition face body fever thermometer) can automatically detect body temperatures of all patients with fever such as detecting fever temperatures of COVID-19 Coronavirus patients, Delta virus patients, Omicron virus patients, SARS & Monkeypox virus patients, Ebola & Zika virus patients, Malaria virus patients, H7N9 bird flu patients, Dengue Fever patients, MERS virus patients, H3N2 flu patients, H1N1 flu patients and other various virus patients. It can also detect normal human body temperatures, it can use this timely and effective manner to prevent spread & infection of flu and virus to people. SWT189A detector can detect and find a fever patient who is caused by any virus or flu.
SWT189A detector can help your government, organization and apparatus to detect human body fevers of infecting COVID-19 Virus, Monkeypox virus, Delta virus, Omicron virus, flu and other viruses to fight and prevent their infections to people.
SWT189A body fever temperature detectors are being widely used in airports, courts, prisons, hospitals, churches, amusement places, embassies, factories, schools, banks, hotels and so on to detect human body fevers to prevent infections of COVID-19 Virus, flu, Monkeypox virus, Delta virus, Omicron virus and other various viruses.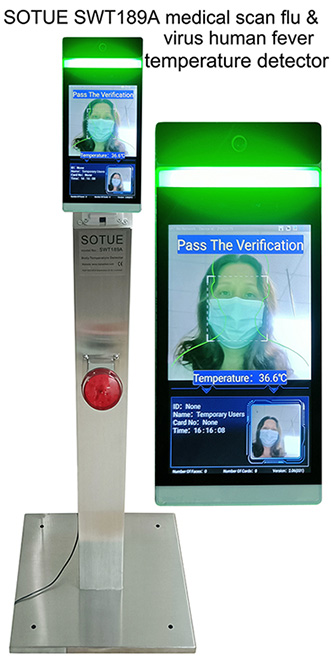 Feature:
1. Built-in non-contact high-precision sensor.
2. Adjustable installation way. You can choose the support frames of different heights to be suitable for measuring persons' body temperatures of different heights.
3. Support detection body temperature.
4. Support detection face breathing mask.
5. Built-in face recognition algorithm.
6. Support to store database of 40,000 faces for the use of Access control System.
7. 200 ms fast identification.
8. 8 inch HD LCD display, metal shell.
9. Giving out an alarm after showing an abnormal temperature.
10. Face recognition, detection temperature, and face mask recognition, Freely configure multiple usage modes.
11. Can record identification information and temperature information, save traceability.
12. Excellent environmental adaptability, adapt to low light and strong back light, support automatic face exposure.
13. Support Wiegand protocol, can directly drive access control and control various gates.
14. Rich hardware interface, optional: Wiegand interface and relay interface. Optional: integrated 100M Ethernet interface, audio interface, USB and other interfaces.
15. Optional: Support the secondary development of device application software
16. Optional: Support various software and hardware customization.
17. Optional: functions of checking personal health code + personal vaccination + personal nucleic acid query or checking personal electronic identification license / card, we can open up its connection data port for a client, but its personal identity data will be provided by your government.
Technical data:
2 MP camera. Thermal Sensor. Detection body temperature distance: 1100 mm.
Temperature resolution: 0.1 ℃. Measurement body temperature accuracy: ± 0.2 ℃ ~ 0.3 ℃.
Measurement body temperature range: 35 ℃ ~ 42 ℃, optional: 30 ℃ ~ 42 ℃.
Power supply: 110V ~ 220V (±10%), 50Hz / 60Hz.
Work Humidity: 0% - 90% RH.
Dimension: 267 mm (L) x 126 mm (W) x 20 mm (H), excluding a support frame.
Weight: about 1.0 kg excluding a support frame.
Face Mask detection.
Body temperature fever alarm. Non-contact detection body temperature.
Optional network: 1 channel 10/100 BaseT Ethernet RJ45 interface.
Optional Wiegand: 1 channel Wiegand output interface. Optional Switch: 1 channel relay output. Optional: MIC Built-in.
Technical standards:
Conform to European Medical Device Directive (MDD) 93/42/EEC and EMC Directive 2014/30/EU international safety standards.
Have European CE & EMC international Medical Device standard certificates.