TECOS AWT33PC walk-through body fever temperature detector (medical scan body thermometer gate)
AWT33PC fever detector can detect body temperatures of all patients with fever such as detecting fever temperatures of SARS virus patients, COVID-19 Corona virus patients, Delta virus patients, Omicron virus patients, Ebola & Monkeypox virus patients, Malaria virus patients, HFMD patients, Zika virus patients, MERS virus patients, H1N1 flu patients, Dengue Fever patients, H3N2 flu patients and all other various flu & virus patients. It can also detect normal human body temperatures,
it uses this timely & effective manner to prevent infections and spreads of COVID-19 Virus, Delta virus, flu, Omicron virus, Monkeypox virus and other various viruses to people. It can detect and find a fever patient who is caused by any virus or flu.
AWT33PC detector can help your government, organization and apparatus to detect human body fevers of infecting Omicron virus, COVID-19 Virus, Delta virus, Monkeypox virus, flus and other viruses to prevent their infections and spreads to people.
AWT33PC body fever temperature detectors are being widely used in airports, prisons, customhouses, exhibition sites, amusement places, banks, churches, embassies, factories, schools, courts, hospitals, hotels and so on to detect human body fevers to fight and prevent infections and spreads of Monkeypox virus, Omicron virus, COVID-19 virus, Delta virus and flu.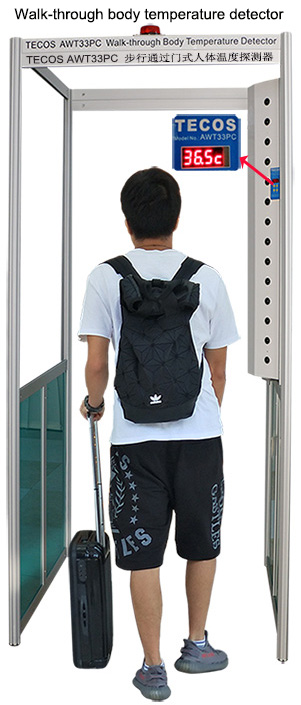 Features:
1. Non-contact detection, safe and reliable, floor design, after the probes scan a human body, it displays the results, when the body temperature exceeds 37.5 ℃ to the alarm, the voice prompts.
The test results are digital show, that red and green light-emitting diode display its work state to be clear and intuitive, measurement system can automatically open.
2. Many vertical scanning probes are in order to adapt to different height people for accurate measurement. An automatic voice broadcast system broadcasts monitoring results. Install more than 13 medical detection body temperature sensors in this system.
3. TECOS AWT33PC walk-through body temperature detector has a high sensitive detection body temperature and fast speed, detects a wide range and doesn't interfere with the measured target, its use is safe.
Only when a human passes through it in the detection range, the instrument shows an immediate human body surface temperature, an operator can obtain accurate data, if they are suspicious fever patients, it will immediately report to the police apparatus, it is a timely and effective manner to prevent spread and infection of Virus & Flu flow for people.
4. TECOS AWT33PC walk-through body temperature detector has a non-contact body temperature measurement, high accuracy, fast measurement speed and over-temperature alarm, it's particularly suitable for large flow of people in the public to rapidly detect body fever temperatures.
Technical data:
1. Door Size: 2100 mm (L) x 970 mm (W) x 950 mm (depth). Walking measurement time : 0.3 seconds. Door frame made by alloy, high-grade appearance.
2. Relative humidity: 80%. Voltage: AC 110V ~ 220V ( ±10% ), 50Hz / 60Hz. Temperature resolution: 0.1℃. Measurement body temperature accuracy: ± 0.2 ℃ ~ 0.3 ℃.
3. Alarm temperature: 37.5 ℃ ( this temperature can be free to be set, for example: 37 ℃, 37.1 ℃, 37.2 ℃, 37.3 ℃, 37.4 ℃ and so on ). The factory setup is 37.5 ℃ for alert, the body temperature exceeds it to an alarm. Fever alarm.
Conform to European Medical Device Directive (MDD) 93/42/EEC and EMC Directive 2014/30/EU international safety standards.
Have European CE and EMC international Medical Device standard certificates and USA FCC safety standard certificate.