TECOS TY2006C walk-through big range scan body temperature detector
Introduction and application:
TECOS TY2006C walk-through body temperature detector is a high-tech measurement temperature product with sophisticated opto-electronics technology, thermal imaging technology, image processing technology and control technology. The instrument has high sensitive temperature measurement, thermal imaging is visual, and it can detect a wide range and fast speed, do not interfere with the measured target, its use is safe, its temperature resolution can reach 0.06 ℃, only measured goals in the detection range of the lens pass through it, apparatus immediately shows hot body images and the maximum surface temperature, then the operator can obtain the accurate data. If they are suspicious fever patients, the apparatus will immediately report to the police, thus it is a timely and effective manner to prevent the Virus flow of cross-infection, particularly suitable for ports of entry, ports, airports, exhibitions, prisons, stations, public places and so on to use, is more suitable for large flow of people in the public to quickly detect human body temperatures, is a kind of big range scan body temperature detector system.
TY2006C body temperature detector can monitor and detect Lassa virus human fever body temperature, Zika virus & MERS virus & Ebola Virus Disease ( EVD ) human fever body temperatures, human body temperatures, hand-foot-mouth disease ( HFMD ) body temperature, H1N1 swine flu body temperature, H3N2 flu & H7N9 bird flu human fever body temperatures, Malaria virus & Dengue Fever human fever body temperatures and human body fever temperatures of other various flus & viruses. TY2006C detector can detect and find a fever patient who is caused by any virus or flu.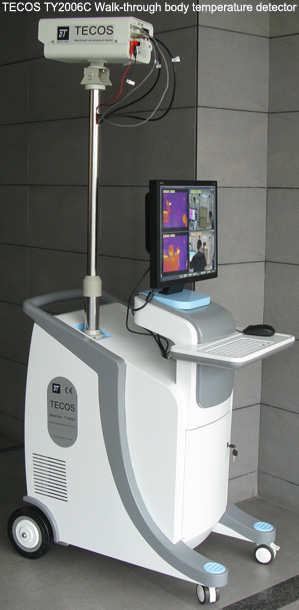 OPTIONAL: Medical grade work console as a left photo as follow:
Feature
1. Fast: Can real-timely detect people who pass through the monitoring region, and in 0.3 second it will be able to detect human fever body temperatures.
2. Non-contact distance measurement: in the lens away from 2.5 ~ 10 meters to detect and accept the body temperature measurements, no ease causes panic and resentment, the monitor can operate in the farther work desk to avoid cross-infection. High sensitivity: its temperature resolution is up to 0.06 ℃, and it is very suitable for flow in the regional long-distance on the crowd to search & test any person, it can accurately identify which patients are with fever.
3. The hidden detection nature: the measured objects can be totally unaware of measurement body temperature, this is beneficial to ensure the airports, prisons, seaports, detention centers, stations, important sectors, stadiums and other crowded places keep normal work order.
4. Automatic alert, automatic capture and automatic record. Real-timely and quickly scan people of a large area. Accurate body temperature measurement. Intelligent temperature measurement with automatic adjustment functions. Real-time measurement data, real-timely and automatically track overtemperature people for more than one object.
Technical data:
1. LCD Display: dual screens show thermal imaging picture & visible light image. Its detector: uncooled Focal Plane Detector.
2. Measurement method: Alarm temperature: 37.5 ℃ ( this temperature can be free to be set, for example: 37 ℃, 37.1 ℃, 37.2 ℃, 37.3 ℃, 37.4 ℃ and so on ), the factory setup is 37.5 ℃ alarm, the body temperature exceeds it for an alarm. Body fever alarm, an alarm temperature is automatically captured and saved in a hard disk. Temperature resolution: 0.1 ℃ (up to 0.06 ℃).
3. Over-temperature alarm: sound alarm, automatic video recording to the hard disk at the same time. Response time: < 0.3 second. Visible camera: Color CCD. Power supply: 110V, 220V ( ±10% ), 50Hz / 60Hz.
Configurations::
1. Body temperature detection system. 2. Visible light detection system. 3. Computer control system, keyboard, mouse. 4. Optional installation way: hang type installation or platform type handcart installation, optional operation console: medical level multi-function work handcart installation (platform type handcart).
Conform to European Medical Device Directive (MDD) 93/42/EEC and EMC Directive 2004/108/EC international safety standards.
Have European CE & EMC international medical device standard certificates.